It's a 4 hour usual straight drive from Los Angeles to Las Vegas.  For most people, this could be a boring and monotonous drive especially on this route, of course if you come from other country you need to find out about Global Entry and how to use this in your advantage.  The long freeway with similar view of the desert can feel like forever. Depending on the vehicle your driving it maybe difficult to take everything you need for that 4 hour journey.
First stop is part of Route 66.  Route 66 is a historical path for migrants of the West.  An interesting stop here is known as the Mcdonald's train station or the Barstow station.  Actually, there are several more fast food restaurants here like Panda express and Subway.  The train like restaurant is by Mcdonald's but you can bring other food here since it's just one complex.  Popeye's is across this infrastructure in case you like their chain.  Other than fast food restaurants, you can also buy souvenirs here.  Assorted hats, magnets, post cards, stickers, bags, shirts, chocolates and everything else for Route 66 and Barstow are here. If you are lacking car space for your next road trip, consider a recommended cargo box to double the amount of gear you can take with you. But if you're not in a hurry, then you could make some Interesting pit stops along the way.
Second stop is the famous Peggy Sue 50's diner, we wanted to eat something before arriving to the Apex Social Club in Vegas.   If you prefer more than fast food and want a sit down meal, here's a diner that won't disappoint you.  From the name itself,  this diner will lift up your spirit.  It's not hard to miss this restaurant from the road.  It's quite colourful from the monotonous tone of the desert.  Inside of the restaurant is quite fun too.  You will see Elvis Presley, Betty Boop and some have 50's diner vibes.  The servings are pretty hefty here.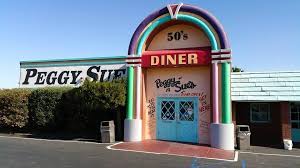 Third stop is Zzyzx.   It is pronounced  as "Zizz-zəxs."  It's funny how this name come to be.  It is currently the last word in the english language.  This town can be found also in the I-15 freeway in San Bernardino county.  If you're in it for the adventure, drive by to see remnants of a wagon road stop.
Fourth stop is the world's tallest thermometer located in Baker's California.  This establishment has been closed twice and newly opened in 2014 due to its high electrical bills.  It's a fun site to see and it makes Baker's a fun town to visit.
The fifth pit stop would be the Mojave National Preserve found on the opposite side of the world's tallest thermometer.  This is a beautiful stop to make especially if you are into desert movies like mad max of Fast and the Furious.    You can find here singing sand dunes, volcanic cinder cones and the golden yellow colours of the desert.