Glenfiddich (GLEN-FIDDICK) is produced in a town called Glenfiddich in Scotland.  In 1887, a guy named William Grunt founded this special whiskey.  It is family run so this family are free to do things their way and they were successful.  They run a company of a solid good whisky distributed around the world. In tours of Scotland at irelandandscotlandluxurytours.com/scotland-tours/ you will also find special tours for this spots.
In Manila, we have a different way of pairing our whisky…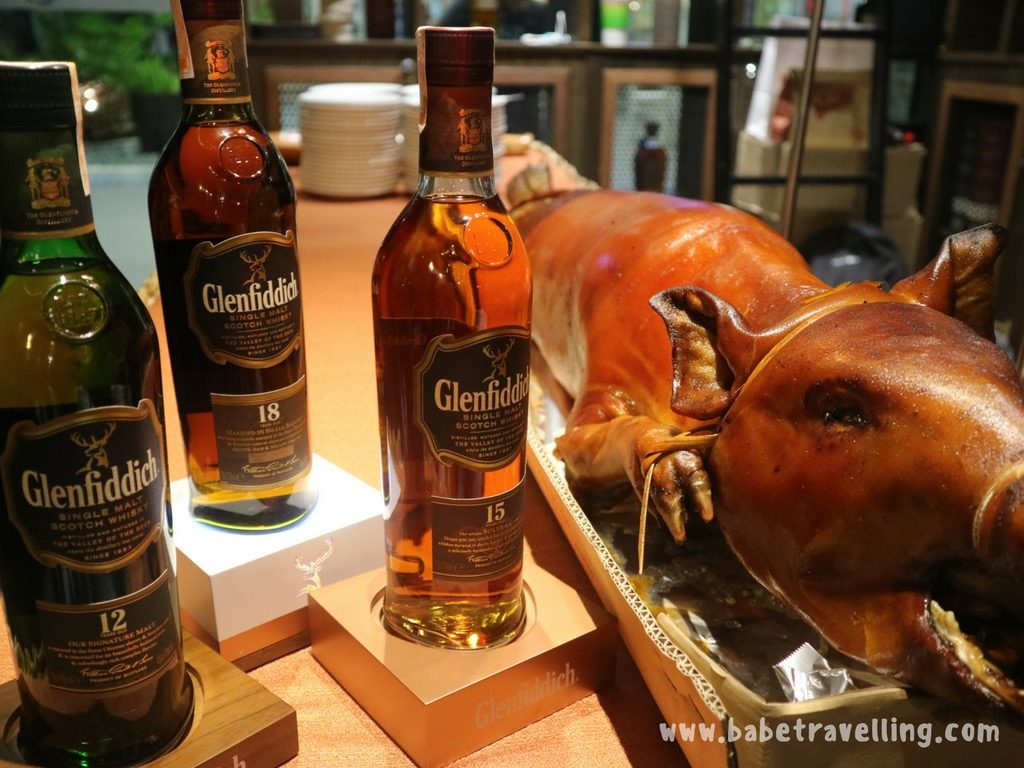 Leonardo's Lechon graced us one night paired with 12, 15 and 18 year old Glenfiddich.  It was my first time to pair whiskey this way and I am about to find out if it's a hit or a miss.
Our curator led us for this #GlendifficXLechon experience.  First he asked us to lift our 12 year old whiskey and place our hands on top of it.  Then flip it over so that some whiskey will go to our palms.  We smelled our palms and random comments that it smells like vanilla went around.   For me, it smelled like a man's perfume.
Then we had a sip of it and played it around our tongue, had a bite of lechon and had a sip of Gelnfiddich again.  The whiskey tasted bolder on the second take.  It's up to you wether you want the lechon or whiskey first.  Whiskey will taste stronger after the bite of lechon.
We did the same with our 15 and 18 year old whiskey.  The 15 year Glenfiddich smelled stronger than the 18 year old.  It also tasted stronger.  I would have thought that an 18 year old whiskey would be more bold.  The explanation is that the more it is stored, it mellows down the flavor.  The barrel is like human skin, heat opens up our pores and cold closes it down.  Older barrels as it seats longer oxidizes more.
I still preferred the lighter and smoother taste of the older whiskey.  Aside from being a light weight, I just like my alcohol really smooth and flawless on my palate.  Then I do not have to squirm after.  It's just me, many folks would like the bolder taste since it gives them more value for their buck for one.
As an additional tip, the 12 year old is best with the fat of the lechon.  The skin is best with the 15 year old.  Another reason why most people like the 15 year old Glendfiddich is because it is paired with the best part of the lechon, the skin.  Finally, the 18 year old is best with the lechon meat.
Here is our table for the night with the KTG (Kain Tulog Gang) and Leonardo's Lechon representatives.  Pls quote me that this night is the bet lechon I have had in my life.
My highlight for the night is having this pad paper of lechon skin and pairing it with an 18 year Glenfiddich.  It was a sure hit!