A visit to Lisbon is just a wonderful, memorable experience.  I am so fond with this place.  If you want to know more about Lisbon and my highly recommend places, read this.  While on food, I also have several recommendations for you.  Here is my top 5 list on the best things to eat in Lisbon:
 Pastel de Nata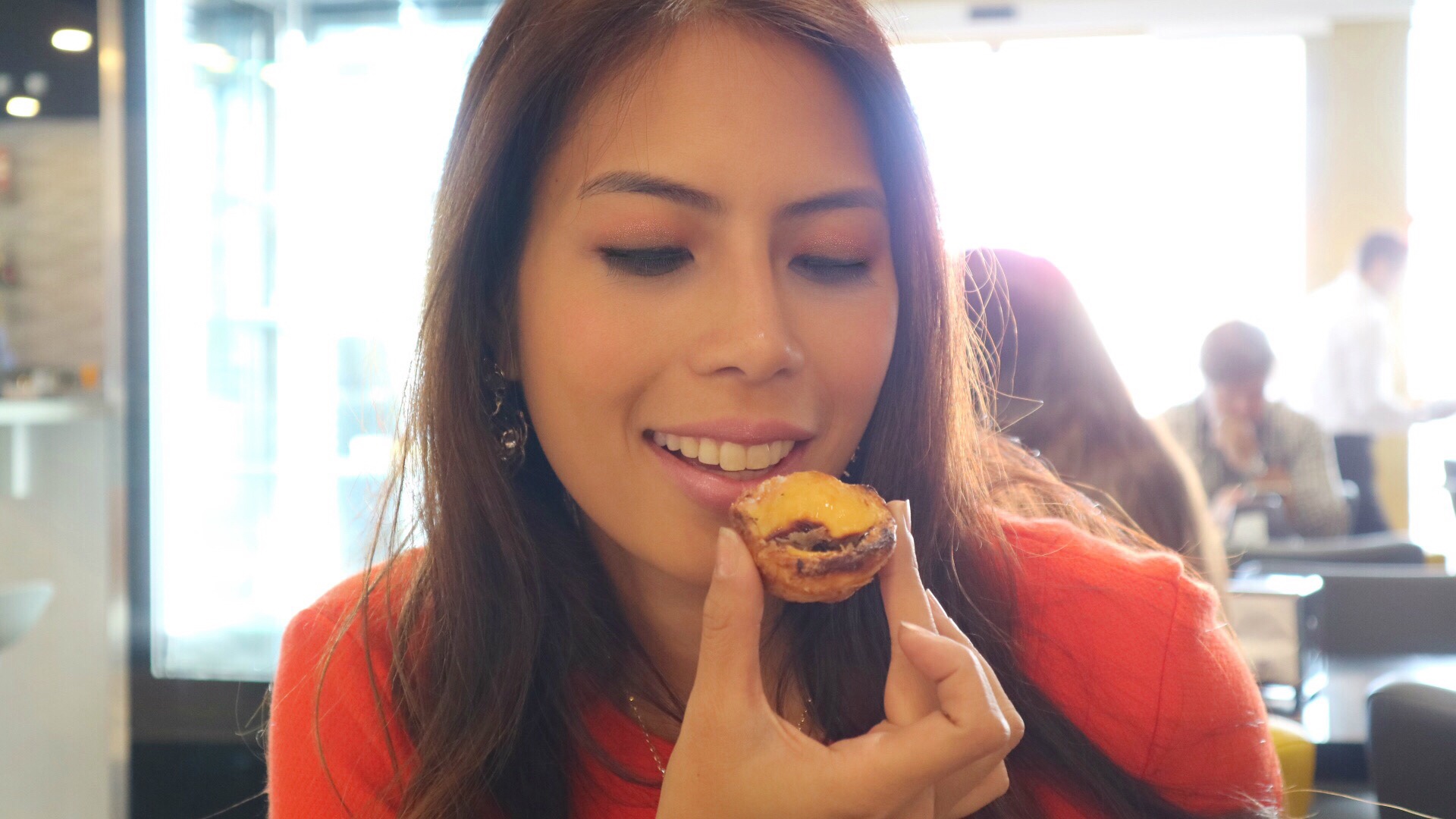 Portugal's most popular dessert is pastel de nata and is visible all throughout the country.  Bakeries are really popular and this could be available in every corner.  The original pastel de nada  can be found in Pasteis de Belem.  For me, this is one of the best desserts I've had in my life.  A lot of people also like this as their breakfast because it does smell so fresh in the morning.  It is perfect for the on the go crowd and the lazying type. 
This food runs more or less on 1 Euro per piece.  The famous Pasteis de Belem, which is the original Pastel de Nata is my favorite.  You can see this youtube video on what to do in Belem.  
2.  Seafood 
Any local would say that Portugal is one of the best seafood places in the world and I do believe them. 
   a.  Polvo 
They have the best tasting octopus around the world.  I especially like the way they cook it and how it is not so gummy or rubbery.  It is very tender and I like to pair it with salad or potatoes.  The price would depend on the restaurant serving it.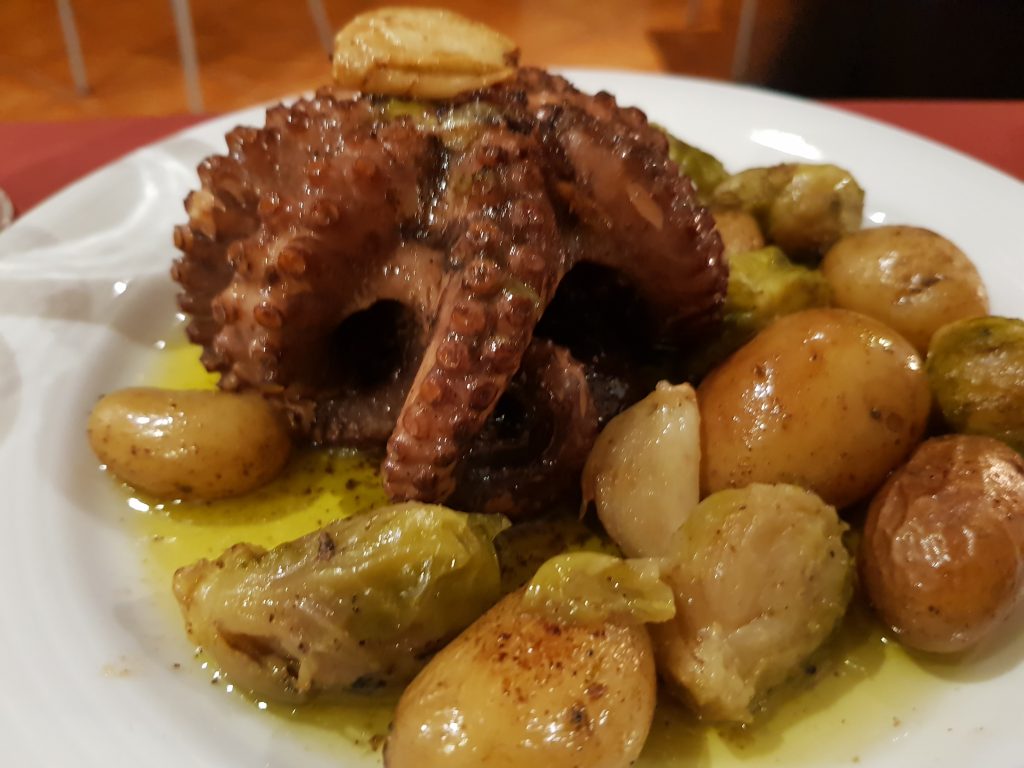 c.  Peixe, particularly sea bass-  I just love this fish so much anywhere in the world.  In Lisbon,  this one is also unforgettable.  The price also depends on the restaurant but this one is only 7 euros for the whole meal plus soup.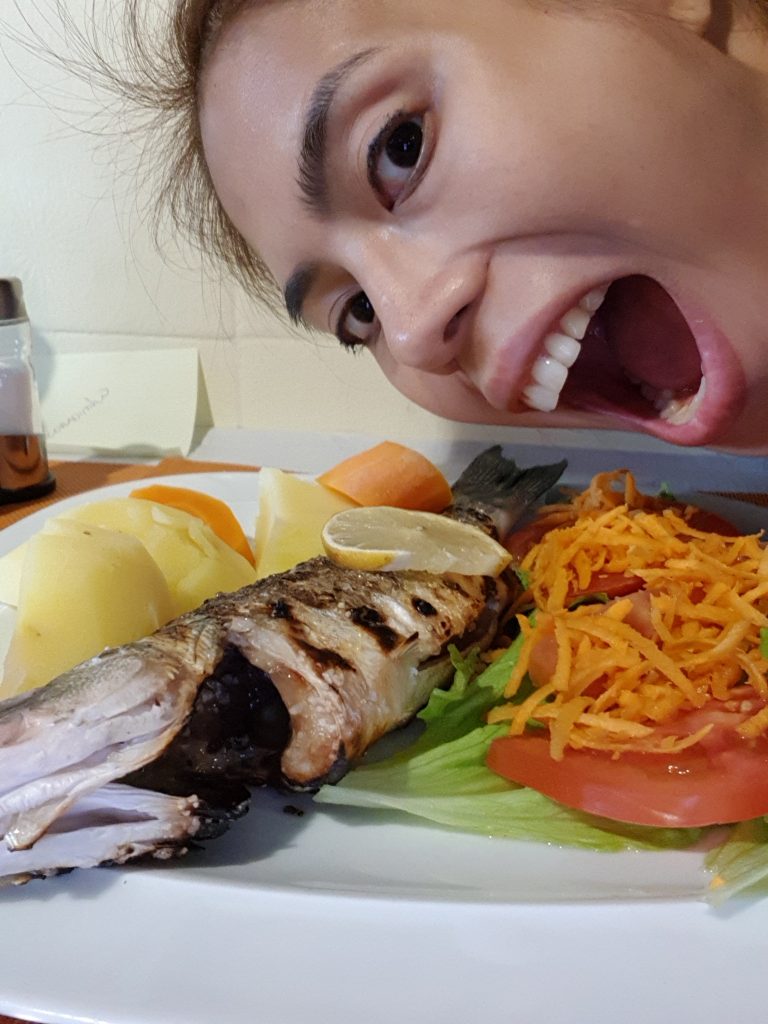 3.  Sardines- I have to put this in another category because it deserves it.  The sardines of Portugal has become a tourist attraction. I got this from the grocery Store at less than 2 Euros. You would think it's unhealthy to eat something in a can.  Well,  I am not an expert on this but this one still taste fresh unlike from what I get in other stores worldwide which is too fishy.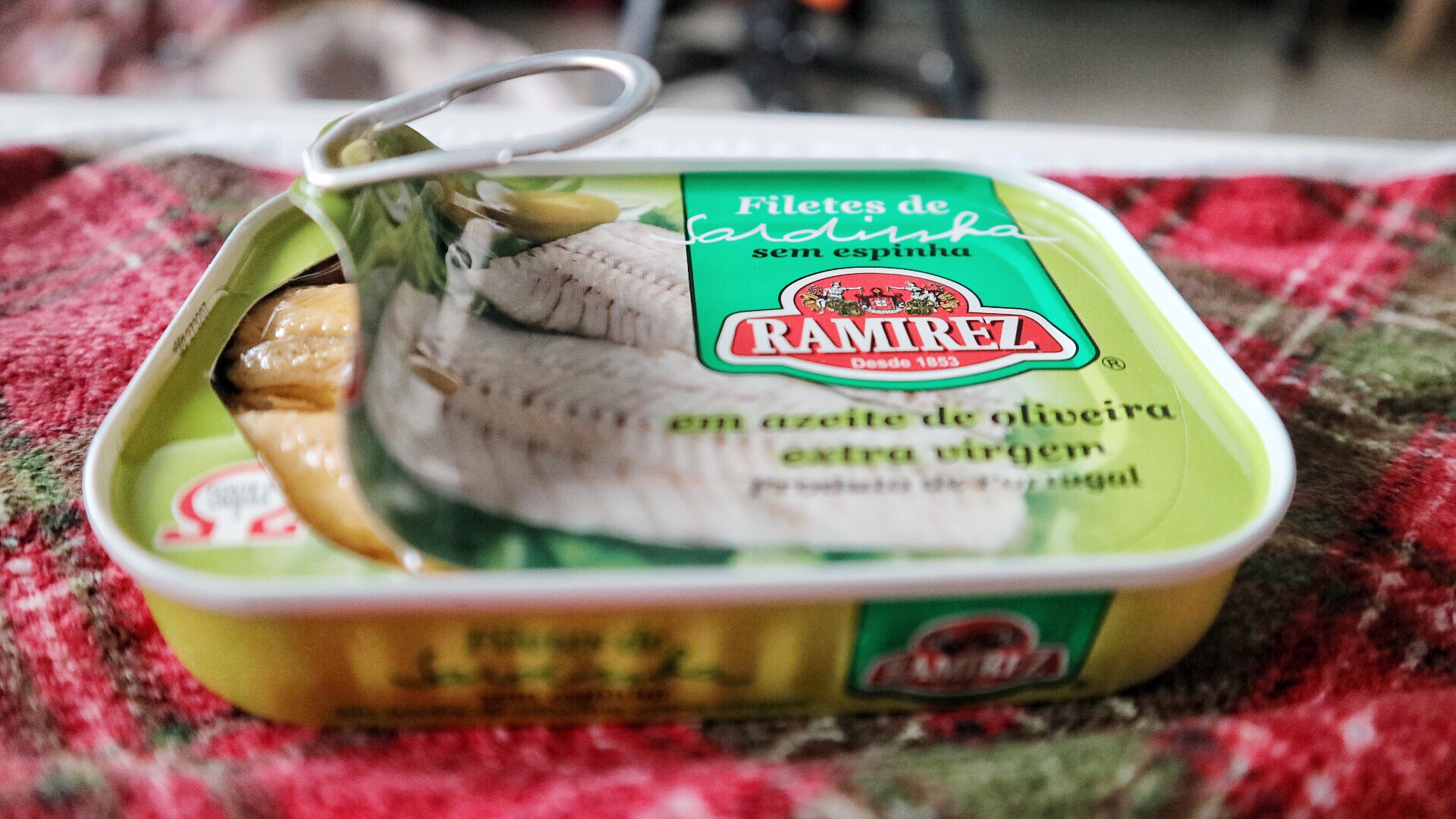 See this youtube video in Baixa area where the sardines:

4.  Steak and ham
Lisbon, Portugal also has great meat.   Although I would say that Portugal is known for their seafood, their meat dishes are also great tasting.  Fresh ham I just like how everything tastes fresh here really.  Here is a plate I got from Timeout.  Timeout is a little bit pricey compared to local restaurants because it is a tourist attraction.  Nonetheless, I think it is worth it to come here.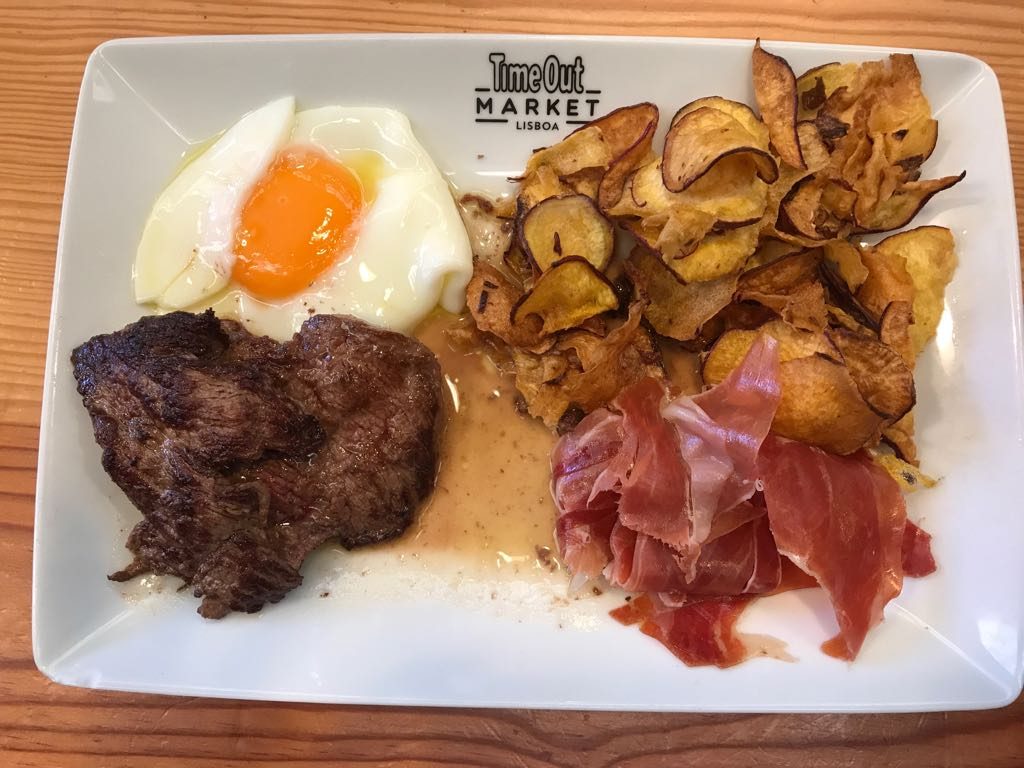 5.  Bifana
This is also a popular dish in Portugal's local menu. Bifana, their famous sandwich is easy to eat and a great snack or meal for folks that are in a hurry.  Since this is easy to eat, I usually 4 eat this while standing. 
The price runs around 3 to 5 Euros.  It is great snack although some local says it is their dessert.  They sure have an appetite.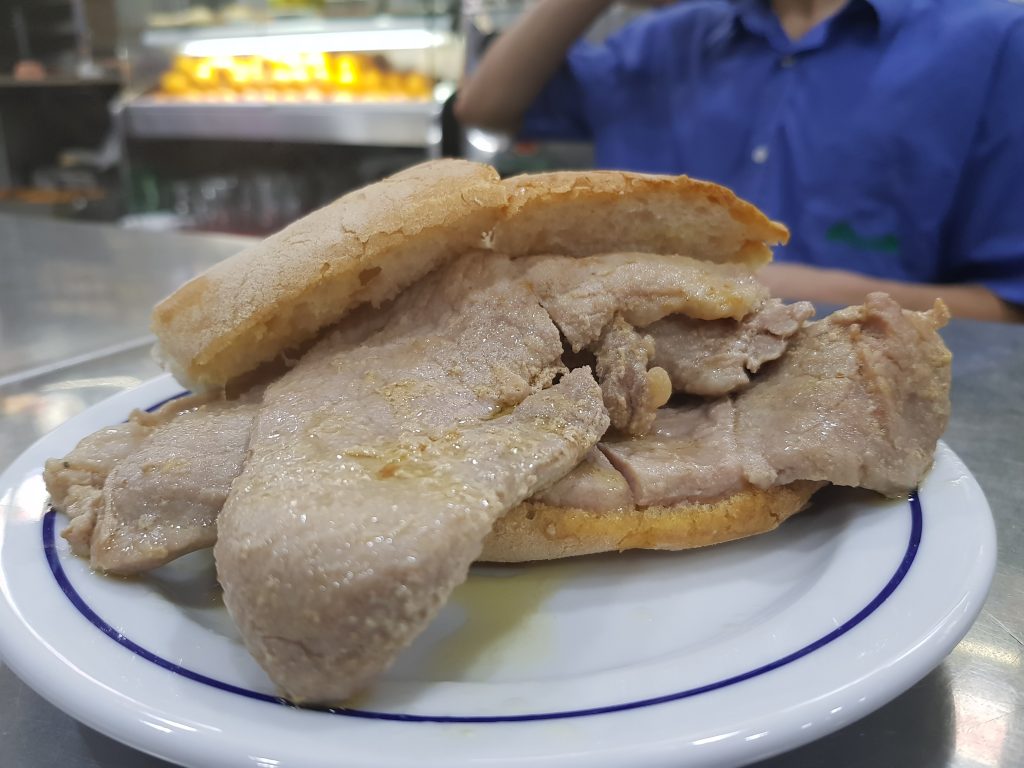 What about you?  What else do you think is another must eat in Portugal?