Bohol has always the top choice of many tourists to visit in the Philippines.  Some have eventually stayed here and made it their homes.  The laid-back atmosphere, beautiful beaches, green countryside and friendly community are the top reasons why one should visit this lovely haven at the centre of the Philippines.
I visited Bohol with my best friend and had such a wonderful time.  In this trip, we did the basic tour of the countryside.  If it's your first time to visit, here is my suggested tour along with the best resorts to book in.
Going back to this beautiful place, I wanted to do something different.  Glamping in nearby island seems to be a nice way to spend time with nature.  One hour away from Baclayon port, Pamilacan island is known for 2 beautiful snorkeling/diving spots, the coral reef garden and sanctuary.
To avoid all the hassles of coordination, book from My Island Casitas to do your boat trips, food and stay.  A boat trip is about P1000 or 20 USD.  It takes about an hour to get to the island with a local fishing boat.  You can comment below too and I can help you out.
Enjoy the glamping tents in My Island Casitas, Pamilacan Island.  It is provided with comfortable beds inside.  One bed fits one person and most tents have 2 beds.  So if you are in it with a special someone, just request to connect the beds.  It also has a wardrobe case so it feels like a hotel room.  Most tents also has a porch with comfortable chairs and table so you can chill here and relax.  All of these costs P1000.
Food is prepared by the caretakers.  You may opt to bring your own food or just relax and let them take care of you.  Also, if you feel like it, you can also request for a massage by one of the ladies in town.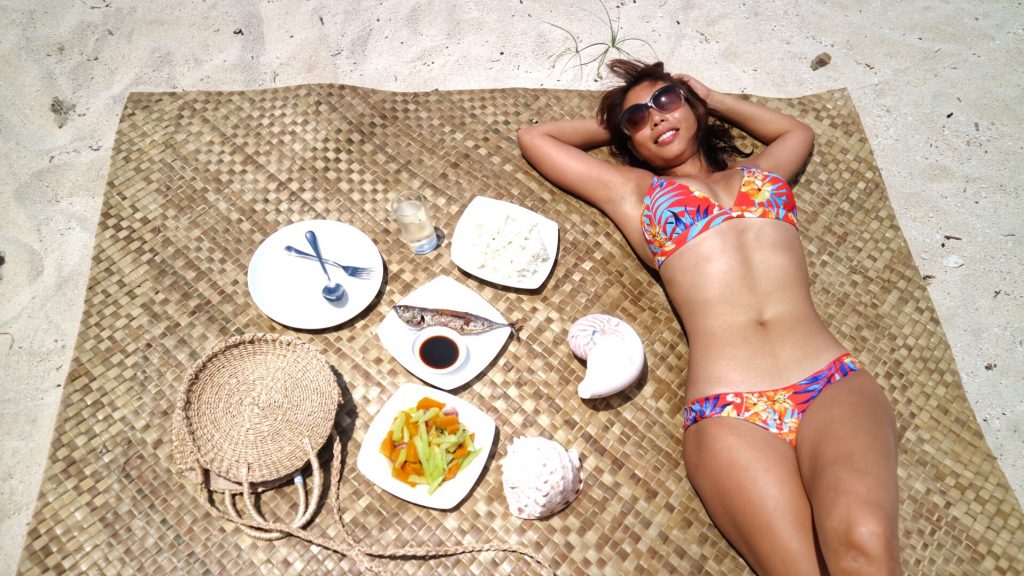 A great thing to do here is snorkel or dive.  There are diving shops around the island and you can request for a booking easily.  If you are non certified, has a flight or simply just one want to have a chill trip by the island and snorkel,  you can also easily request for this.
Your boatman will pick you up at the resort and he will paddle for you to your requested spots.  I highly recommend to go both the coral reef garden and the sanctuary.  Their coral reef garden is so beautiful and colorful.  In fact, this local spot is highly comparable to other popular expensive diving spots. 
The sanctuary is also great to see.  They named the place on the mountain so you can be careful and avoid penalties.  They are quite strict on this territory.  No fishing, touching of marine life (even with gloves).  Always have your safety vest around you.  My boatman has my vest ready here.
On the way back, you can make a quick stop by this Spanish monument.  I really like how this island has a beautiful marine life and still a secret gem to most.
Lastly, enjoy the beautiful white sand during your stay.