(10 June 2019, Honolulu, Hawaii) – The Philippine Consulate General in Honolulu is holding a Filipino Food Week (FFW) from June 9-15, 2019. FFW is a week-long celebration of Filipino cuisine, where diners can go to participating restaurants in Oahu and Maui to try the Filipino food specials that are offered by different chefs and food establishments.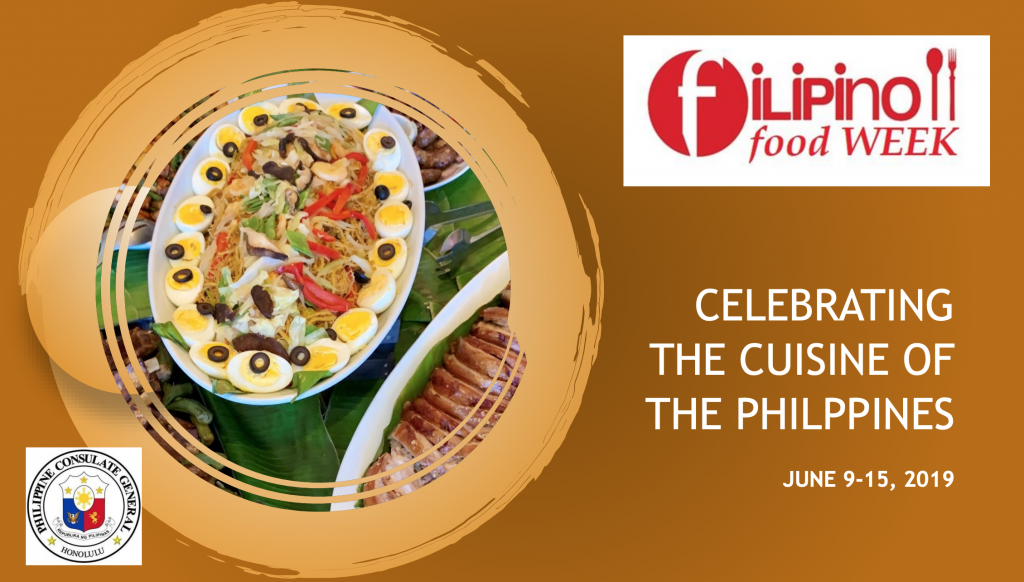 Participating Restaurants
In Oahu, the following restaurants will have at least one Filipino food offering for FFW using coconut as an ingredient:
For Maui, the following restaurants will be participating:

Joey's Kitchen, Lineage, Star Noodle, Tante's Island Cuisine, and Tin Roof.

Filipino Food Week Specials
For this year's week-long event, a diverse mix of restaurants participated, which includes Hawaii Regional Cuisine pioneers, award-winning restaurants, Asian fusion/ modern local food outfits, alongside local Filipino
favorites. This diversity will allow diners the opportunity to taste and compare the different renditions of Filipino dishes: from progressive interpretation of the cuisine (i.e. Stage Restaurant adobo arancini, Restaurant XO's whipped coconut yogurt calamansi gel palapa brioche) to the more traditional home-style Filipino cooking, which you will see with the offerings of Elena's Home of Finest Filipino Foods with their dessert platter, Tante's Island Cuisine's adobo dish, Max's Restaurant's binakol, bicol express, chicken adobo, and buko pandan, and Cafe Julia's chicken adobo and pork belly kawali-style. Joey's Kitchen, Mariposa at Neiman Marcus Ala
Moana, and Tin Roof Maui, meanwhile, is adding a little bit of twist to traditional way of cooking the ginataang isda, searing the fish first before putting it in coconut broth. Lineage, a James Beard Semifinalist and winner
of Hale 'Aina Award for Best New Restaurant – Reader's Choice, meanwhile, is featuring fine dining Filipino food experience in their award-winning restaurant in Maui.
FFW also seeks to highlight the commonality of Filipino food with other cuisines – Won Kee Restaurant will showcase the Chinese influence in Filipino food with their version of suman (sticky rice), pancit (noodles),
lumpia and use of common ingredients such as bagoong in their dishes; Merrimans Honolulu ceviche shows how this Latin American dish is similar to our kinilaw owing to our shared history being former Spanish
colonies; Chef Chai, will be featuring Filipino dishes that use ingredients that are common in Southeast Asian cuisine such as tamarind, patis (fermented fish sauce), and curries.

Restaurants such as Tiki's Grill & Bar, UBAE and Eating House 1849 by Roy Yamaguchi will be highlighting
coconut, which is the theme for this year, in their dessert. Haleiwa Beach House concocted special cocktail drinks using coconut syrup and water as base, adding in other flavors from the Philippines such as mango,
pineapple, and calamansi.

Star Noodle, meanwhile, is sending the message that Filipino Food can be healthy with their kinilaw made from fresh local ingredients and their vegan version of Halo-Halo. Restaurants such as Tiano's Restaurant Kunia and Chef Chai will have meals for sharing, which is typically how we serve dishes in the Philippines. You can also experience dining with your hands, kamayan-style, at Dana's Restaurant & Catering.
Contest and other promotions
The restaurant which will be able to sell the highest amount (gross sales) of their Filipino Food specials shall be awarded a round trip ticket to the Philippines for two (2) courtesy of the Philippine Airlines, the country's
national carrier, and a culinary tour around the Philippines to learn more about the rich heritage and diversity of Filipino cuisine. A special prize shall also be given to the restaurant which uses the most number of Mama
Sita's products.

Diners can also win a round trip ticket to the Philippines by filling-out Filipino Food Week Stubs after they dine in any of the participating restaurants. These stubs shall be collected by the Philippine Consulate from the restaurants at the end of the week and will be raffled off on June 21 at the FilAm Courier Community Hour at KNDI Radio at 2:00 PM.
Even non-diners have a chance to get a free trip to the Philippines just by posting anything that is related to Filipino Food or the Filipino Food Week on their social media accounts. They need to make their post/s public
and tag @filipinofoodweekhawaii, @philippineairlines (FB), @flypal (IG) and use the hashtags
filipinofoodweekhawaii, #PAL, #philippineairlines, #flypal, #pal_hawaii,theheartofthefilipino, #PALHAWAII.
The post that gets the most number of likes by noon of June 19 will win the free ticket to the country and discover for themselves why "It's more fun in the Philippines". Filipino Food Week Restaurant Crawl
The Consulate will be organizing a Filipino Food Week Restaurant Crawl, featuring an itinerary which stops at all the participating restaurants in Oahu and Maui. At least one Filipino Food Week Ambassador will be
present at selected locations on certain dates to explain more about Filipino cuisine, history and culture while guests enjoy the sumptuous meals prepared by the participating chefs. Full schedule of the crawl can be found on the Facebook Page of the Filipino Food Week.
FFW Partners
The Filipino Food Week is being spearheaded by the Philippine Consulate General in Honolulu in partnership with a number of government, corporate, media, and community partners. The Philippines' Department of
Tourism will be organizing the culinary tour of the winning restaurant, while the Department of Trade and Industry assisted in connecting the Consulate with Philippine food manufacturers and distributors such as
Asian Food Trading Co., Bleeding Heart Rum, East West Marketing Inc., Mama Sita's, Philippine FoodTrade Co., and Seafood City, which provided samples of Filipino food products to participating restaurants.
Philippine Airlines supplied free tickets while LBC Hawaii helped ship the sample food items to participating restaurants in Maui. L&L Hawaiian Barbecue and the Filipino Junior Chamber hosted events to help promote
FFW. Orig Media and Photoluxe Event and Services generated video and photo content while TFC – ThFilipino Channel, FilAm Courier, and KNDI Radio handled the tri-media promotions. A number of Filipino community organizations were also involved in promoting the Filipino Food Week. The list of community partners includes: the Bicol Club of Hawaii, Congress of Visayan Organizations, Cebuano Association of Hawaii, FAMES Hawaii, Filipino Association of University Women, Filipino Chamber of Commerce of Hawaii, Filipino Junior Chamber, Filipino Young Leaders Program, Philippine Cultural Foundation, and the University of the Philippines Alumni Association of Hawaii.
Way forward
By organizing the Filipino Food Week, the Philippine Consulate General in Honolulu hopes to generate more awareness and interest among locals and restaurants to try and feature Filipino food. The Food Week is part of a US-wide effort of the Philippine Embassy in DC and various Consulates in the US to promote Filipino cuisine and culture, riding on the strengthening of the Filipino Food Movement across the country (END).