Diamond hotel, a luxury 5-star hotel along Roxas blvd. (Manila, Philippines) with excellent sunset view, brings Steak Spree Thursdays at their lobby restaurant.  For P2,355 ($55), you can have it all.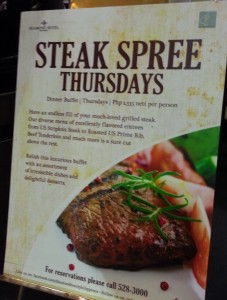 Start the buffet with many appetizing choices.  Fresh seafood like crabs, oyster and shrimp greets you.  Dip them with spiced vinegar or tomato paste.  Cold cuts in gourmet style are available right next to the assorted cheese and nuts.  Assorted bread is also at the same station.  Go around it and you will find different kinds of ready salad like potato salad and salmon with mango.  You can also make your own salad and choose your own dressing.  A salad bowl is readily available for your salad mix together with fresh salmon, olives (green and black), carrot sticks, cucumber and many more.
The Japanese station has your favorite fresh salmon, squid and tuna.  It also has assorted maki, sushi and you can also request the chef to make a temaki (cone shaped sushi) for you.
While the Chinese station have roast peking duck hanging.  It also has siopao, siomai and some more dimsum.
In addition to this, papadum and some curries are available at the Indian/Middle Eastern station.
Here goes your Steak Spree with choice cut of tenderloin, sirloin and tbone.  Have it grilled the way you like it.  Request the chef to grill it from rare, medium to well done.
Feast your eyes with these desserts.  Eye candies it is.  Truffles, pralines, macarons  are available in several platters.  They also have Filipino desserts including bibingka and some gourmet sticky rice.  The ice cream are homemade with the ube (purple yam) flavor being the favorite.  It has real ube around it.  You can also opt to put nuts and sprinkles on top with their delectable choices on the side.  There is also the chocolate fountain for fondue.  Marshmallows, strawberries and pineapples are readily available on stick.
Diabetics need not to worry as there are sugar free cakes and different kinds of panna cotta like almonds, pistachio, chocolate.  Healthier choice of fruits like orange and apples are found on top. Displayed together are the jars of assorted cookies like chocolate chips, oatmeals and crinkles.
To book Diamond hotel, click here.