Myanmar, formerly Burma, is not a common spot for tourists but popular for travellers. Tourists are extra careful while travellers seek adventures. I don't blame most tourists as Myanmar has been going through economic and political changes. It just moved to a non-military country in 2016. Finally, Myanmar is now open for public.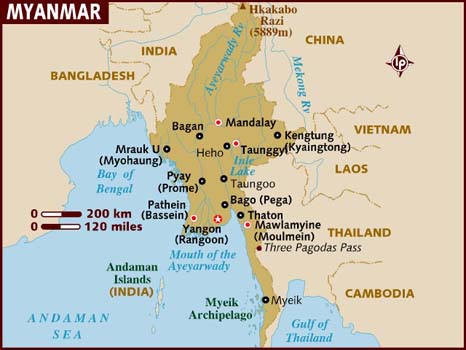 Yangon has an international airport and most people land here to go to different parts of the country. Visitors don't stay here since there is not much tourism ongoing. Yet, Yangon is their capital so there has to be places to go.
I arrive at night here in Yangon from Luang Prabang. It was pretty easy booking hotels in the area. I chose a hotel that is convenient and in the midst of everything. Book Here with discount for my hotel choice for Yangon, Myanmar. In retrospect, Central Hotel Yangon hotel is decent and has very good location. It's not luxurious but it's also not overtly adventurous. I did find the rooms muggy but I would think this is a standard since Myanmar is desert sandy.
Riding a cab from the airport is easy, there will be plenty of taxis that will swarm in to get your business. There will be haggling practice on your part. The best way I got a good price is by comparing Uber price with the rate of the taxi.
There are two things, I think you shouldn't miss in Yangon. The first one is Shwedagon temple. There plenty of temples to visit in Yangon if you want to do temple hopping but this temple is insanely beautiful.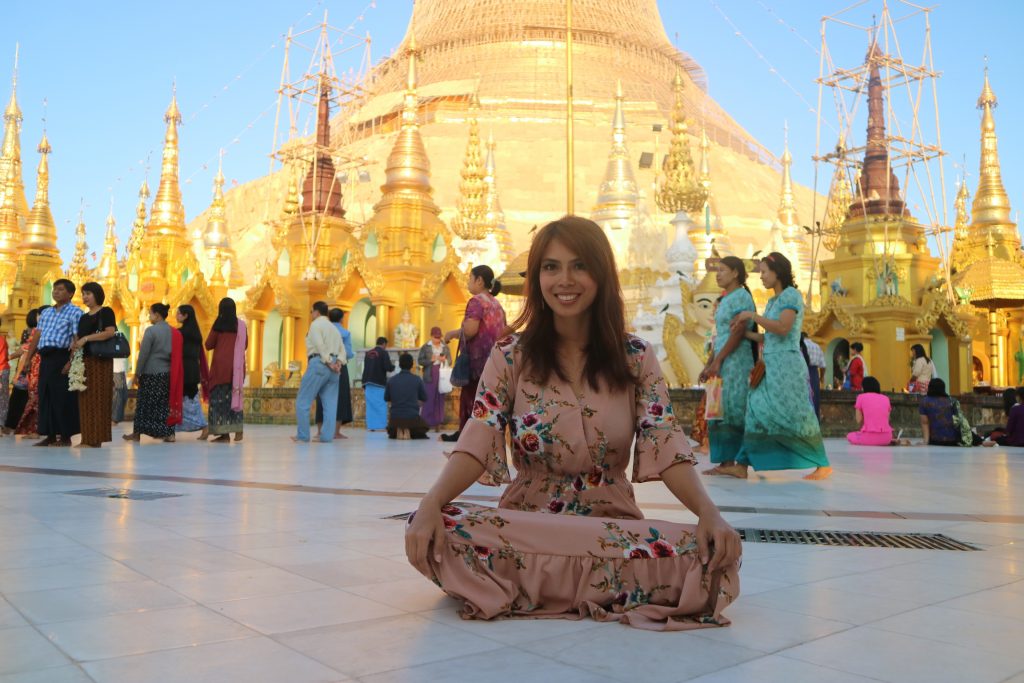 The best time to visit this temple is during sunrise or sunset to avoid heat. It's an open place so expect direct heat from the sun. It opens at 4 am and closes at 10 pm. Yes, there will be plenty of people there around that time. Yes, wear well-covered clothes like any other temples and churches. This is a world famous Pagoda so expect a lot of people. I haven't heard of much theft in this country. IMHO, Burmese are one of the kindest people I've met. Yet, it's always good to be cautious. This is a city after all.
The taxi ride form my hotel is convenient as they are found just in front of Central Hotel Yangon. It was fairly cheap to get there. I would refuse to haggle not to waste time. Unless, they are exceptionally expensive. To get a good taxi rate, I asked the hotel reception the running price.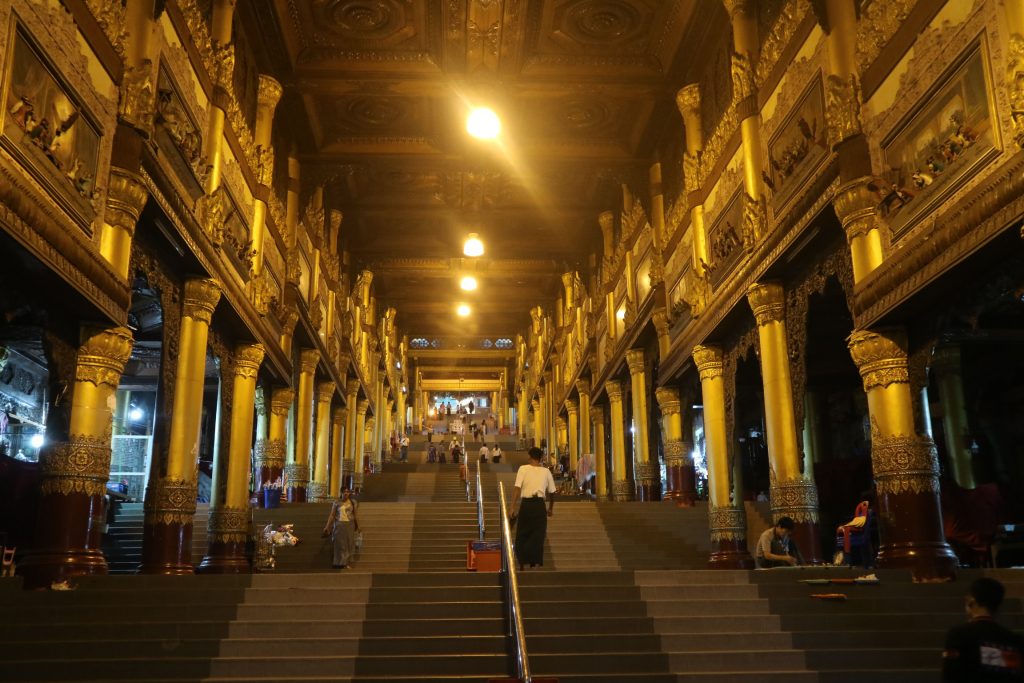 The entrance of Shwedagon Pagoda is a steep but manageable climb. There are plenty of shops on the side for tourists or if you want to buy flowers or candles for the temple. Upon entering, get ready to pay 8USD for entrance. If you want a guide, it will cost 5USD. The guides are pretty decent if you don't feel like researching Shwedagon history and points.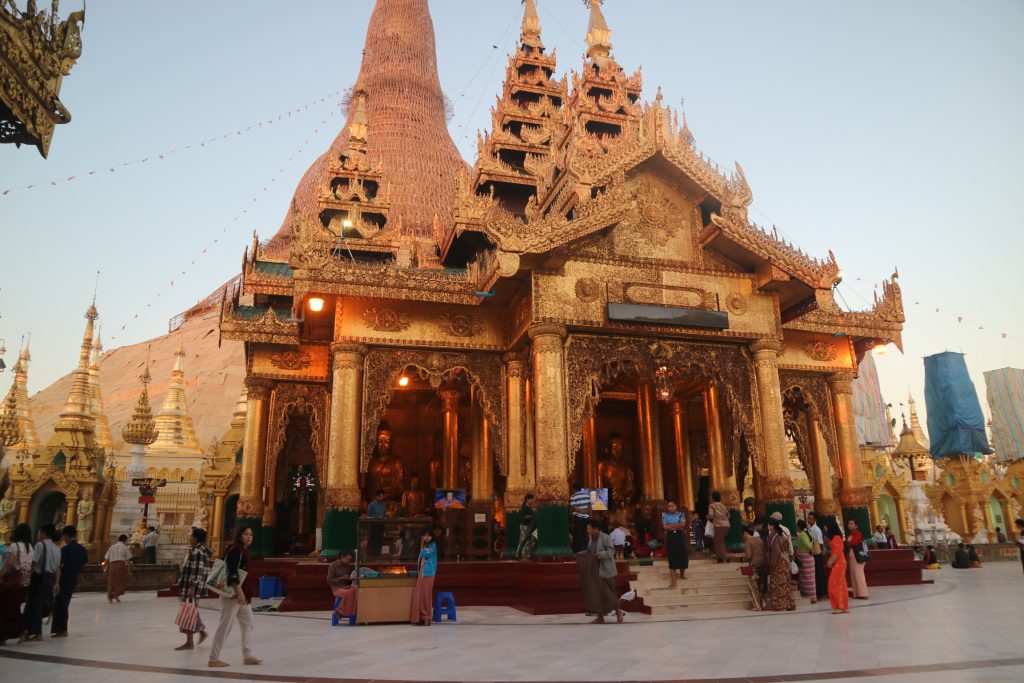 My next spot is the Bogyoke Aung San Market in Yangon. It's so easy to go here as it is walking distance to the Yangon hotel of my choice. Here, get ready to shop! You can find here all sorts of clothing, arts, jewelries, souveneirs and local food. It's a big market but it can be done in a few hours depending on your goal.
It was nice to encounter local items here in Bogyoke Aung San Market. The most interesting part is the array of local tropical fruits that they have. It was definitely cheaper here compared to the mall across the street. The clothes and textiles too were favorable price wise but it can be challenging to try it on here since they don't really have provided changing rooms. Also, you have to dig dip around here.
Overall, these are the two spots I would suggest to go to if you have a day in Yangon. The best parts of the island where you get to see temples and other interesting historical artifacts are in Bagan and Mandalay. Since Myanmar just opened to the world, there is still not much tourist here but the tourism industry is currently improving.